Substance Use
JTCHS has been particularly sensitive to the needs of clients with addictions. Services provided are evidenced –based and include Individual and group treatment programs that use a co-occuring model to address the simultaneous presence of both substance use and mental health issues.
Jefferson Reaves House Women's Residential substance use treatment program a 40 bed facility, offers services for pregnant substance addicted women. Women are allowed to bring their children under the age of five into treatment with them.
Outpatient services, that include a day treatment program, are specifically designed to meet the needs of clients seeking treatment as a result of court referrals, DUI's etc. In addition to the onsite treatment programs, the department of addictions ALPHA program provides substance use prevention education services to middle school children at Charles Drew and Liberty City Elementary schools.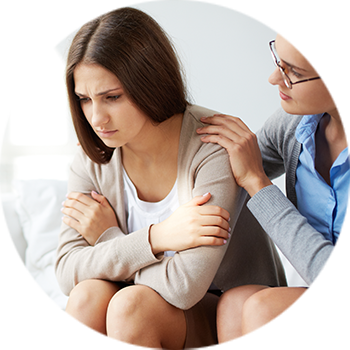 Mental Health Wellness
JTCHS Outpatient mental health program provides evidence –based, state of the art treatment for anxiety and depressive disorders. The staff, that includes a psychiatrist and Licensed Clinical Social Worker, are experts in the provision of grief counseling, geriatric psychotherapy, gambling Addictions, post-traumatic stress disorders and co-occuring substance use/mental health disorders as well as psychotropic medication management.
Health Tips
Affirmations
Affirmations are motivational statements that you say repeatedly to yourself to boost your mental state of mind.
You can call them "Uppers," for fun's sake. They will teach you to think positively and feel good about yourself, regardless of the circumstances around you.
Start a daily practice to rehearse the "Uppers" and see how it feels. There is nothing to lose and perhaps something to gain from saying good things to your self daily. Here are some affirmations will surely jump start even the moody blues!!
I love Myself
I love myself. I am kind to myself. I realized that my life's journey really starts when I become a best friend to myself. Only then can I be a gift to everyone else and bring value to the world. What can I do that will help me be GOOD to my mind, soul and body?
I forgive myself unconditionally
Today I embrace myself with all the mistakes that I make. I will affirm "I love myself" no matter how big or small I understand the mistake to be. I understand that I am only human, and doing the best that I can. I put the baseball bat in the trash can!! What do I need to forgive myself for today?!!
I am what I think
I recognize my thoughts are extremely powerful. What I think, I believe. Today I start a diet that truly works: I will refrain from all negativity every moment of the this day!!
To Schedule an Appointment
Jessie Trice Center for Community Health
5361 NW 22nd Ave Miami, Florida 33142
305-637-6400
Behavioral